Water is 4 1/2 feet across the road today. It is really coming up fast. It now has crossed on the south side of the house as well, so we see water looking out 3 of the 4 directions!
I actually have time to download some of the pictures I have taken earlier in the spring, so I'll share some of those as well as current ones. I have to show my favorite customer in recent days.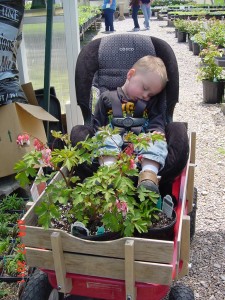 This little boy was certainly enjoying his visit while his Dad shopped. I thought it was too cute not to snap a shot!
Yesterday I told you I was taking the blooms off of the geraniums. In the high humidity of the greenhouses(especially in extended rainy weather) the blooms on the geraniums go bad and make the foliage suffer as well. Since I know I won't be able to be open for a couple of weeks, they will be easier to care for with the existing blooms removed. They should begin  re-blooming about the time you can get back in. This first picture shows the greenhouse bench of geraniums in full bloom.
And here is a closeup of the actual blooms and buds.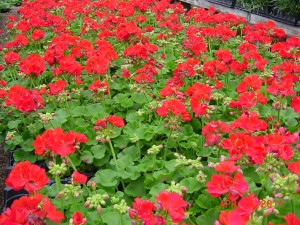 Notice all the small buds as well as full blooms!
Here is the finished product…at least the part I could get done yesterday.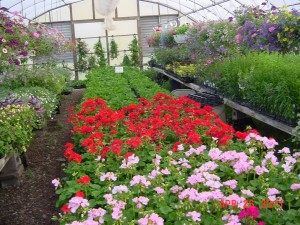 You see the blooms in front, but the back half of the bench has been plucked and spaced one by one. I'm sure missing my employees right now! 🙂
I had a call this morning from a gentleman who wanted plants. When I told him I was flooded out and water was across the road, he asked if he could boat in!!!! I had to laugh. I'd LOVE that, but with a "State of Emergency" declared, no one is allowed to boat in for casual reasons, especially if you don't live here.
I'll try to take a few flood photos to share next time, but now I have to get over to the greenhouse. My geraniums are calling!
And HAPPY BIRTHDAY to Sheila today!